Cluster Repair Service
Audi Cluster


Audi TT A3 A4 A6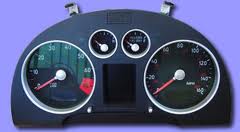 Most Audi TT , A3, A4 and A6 instrument clusters suffer from common problems such as :


Power dead
Flickering on/off
Temp and fuel dials not working
Rev and MPH needles not working
Instrument cluster works after being on for a long time
Intermittent power

Your Audi TT, A3, A4 or A6 instrument cluster will be rebuilt using factory approved components.

All repairs are carried out inhouse.

A full bench test is carried out prior to sending out your cluster.

Your original mileage and settings will remain intact, including your immobiliser code. You do not need to do anything, just plug and play.